I have been getting lots of e-mails with the same questions recently, and I can't answer them all which bothers me. Literally, it keeps me up at night, thinking of all the unanswered e-mails that I have sitting in my inbox. UGH. So, here is a the new FAQ sheet, which I am just going to do as a blog post. I will also answer any additional questions in the comments thread in case anyone has the same questions. Also, in case you missed it, the husband and I did a vlog not too long ago.
Check that out here.
1. What kind of camera do you use? Lens? What editing programs do you use?
All photos on this blog were taken with a Nikon D50 up until January 2012. After that most images you see have been shot with a
Canon 5D Mark II
. As of this blog post, I am working on upgrading again to a
Canon 5D Mark III
.
(Why a Mark III? Isn't a great picture more about using a great lens?)
While it is true that you can produce a great image with a great lens on almost any camera body, having a solid camera body goes a long way too. I love my Mark II but am not huge fan of the focusing system. I recently got to shoot with a Mark III and fell in love. With 61 points of focus and the color profile of the Canon 7D its like a perfect camera love child. I am smitten.
Lens?
90% of the time I shoot with my
50mm f/1.4
but am looking at purchasing my first wide angle lens very soon. I love my fifty, and use it on all newborn and engagement sessions. I rarely switch out my lens. I will be purchasing my first wide angle soon and am looking at the
35mm f/1.4
. I also have a zoom lens
(24-105mm)
which I use for ceremony photos and action shots where I need to be able to zoom in and out quickly. Eventually I would also love to add the
70-200mm
zoom lens to my gear as well. I shoot with only L-series glass-- I think it makes a huge difference.
Editing program?
Currently I use Photoshop CS5 only. I hear that lightroom is really great to open several pictures at once and color correct them at the same time, so I may be adding that to my arsenal soon.
2. How did you do your website, I want one like that too!
Do you really think I'm just gonna give up days of research, planning, coding and designing? Sorry, gotta keep SOME things to myself ;)
3. How do I link up with you for Friday's Letters? When did you start that?
A: I started Friday's Letters over a year ago and got the idea from todaysletters.com I loved the idea of writing to my husband and then it turned into writing to anyone and everyone who had impacted me during the week. Several people asked me if they could do it too, and Fridays Letters Linkup was born! To join, all you have to do is grab the button code below, slap it somewhere on your post and then come back and input your URL. Then everyone can read each other's Friday's Letters. Simple as that. To read the archive of Friday's Letters you can click
here
. *new button code coming soon!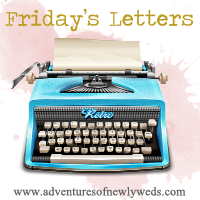 5. So, wait, WHY do you guys travel so often? I am confused.
A: My husband is a doctor of physical therapy. (Yes, he does have his doctorate and we have the student loan debt to prove it)! Most people don't know it but there are several companies that employ medical professionals to travel the country and fill in at jobs where employees are needed. Why do they need employees? Maybe someone is out because of an injury, a maternity leave, or they are just having a hard time filling a position. This is where my husband comes in. We usually pick a few states which we think would be fun to live in and then he applies for a license to practice in that state. Once he has that his company sends him a list of available jobs in that state. He decides which one sounds the best and that is where we go. Usually the jobs last for 13 weeks and the company he works for sets up our housing for us which includes furniture and housewares. This means we pack up our cars with our clothes and personal items, and of course, Baby Bella and move from place to place. Of course, we won't be doing this forever. Just while we do not have kids and moving is easy for us. We will most likely be making our permanent home somewhere in Michigan (named the most beautiful place in America by ABC News!) in the next few years.

UPDATE: After leaving the Bay Area we are finally back in Michigan as of August 2012! Jonathan is "traveling" in his hometown with the company he first began working for out of grad school. At the same time he is looking for a permanent location somewhere in the area. We are hoping to be somewhere along the lakeshore, but anywhere near our families is fine with us! Once he finds a permanent job we can begin house hunting and then well, I am sure this blog will turn into tons of DIY and home improvement projects!
6. You write about Lupus a lot, I think I may have it too. How do I know? How did you find out you had it?
I recently wrote a huge post all about lupus. It includes how I was diagnosed, an in-depth explanation of what lupus is and how I am treating it and living with it now. You can check it out here.
7. When are you going to have kids?
We are very excited to expand our little family, and because of my lupus we have had a few problems along the way, but hopefully we can make a happy announcement soon! Prayers are welcomed :)
8. What kind of dog is Bella?
9. Who designed your blog? How did you get followers and grow your blog? Any tips for a beginner blogger?
Lindsay from Scenic Glory designed the blog you are currently looking at. Love her... she does great work and a great price. Second, I am not sure how my blog grew to be what it is today. I started my blog to write about my new life as a married lady and it turned into something really fun-- I had no idea about the blog community when I started it, but now I don't know what I would do without some of the wonderful girls I have met and become life long friends with through it! As for basic blogging tips, you can read my post on
Blogging 101.
10. You mention God a lot, what religion do you practice?
Jonathan and I consider our relationship with the Lord the most important part of our lives, even more important than the relationship we have with each other. We attend a non-denominational church currently but do not attach ourselves to any title. Rather, we believe in following the teachings of the Bible only. We believe that Christ died on a cross to pay for our sins, save us and give us the opportunity for eternal life. We believe choosing to accept and serve the Lord is the only way experience that eternal life. We also believe in loving people with the love and joy the Lord has instilled in our hearts. We believe in spreading this good news and sharing life to the fullest with as many as possible.
11. What is your workout routine?
Currently I try to put in at least 40 minutes of cardio every single day. Generally that cardio is running, but when I can I like to mix it up with swimming or cycling. I also got really into yoga last summer and since being in California I have started it up again. I go almost everyday and prefer a heated vinyasa or power yoga class. On the days I run I also hop onto youtube and do a video by the Tone It Up Girls. I keep 5 and 10 pound weights in my living room and the videos are all easy to follow and do in your own home! I believe weight lifting and strength training is just as important as cardio, because you can be thin, but its not as pretty as slender and STRONG! I really have to maintain a strict workout regime because I absolutely love to eat!
12. What are your tips for people who hate to run?
I started out as one of those people who
hated
to run. When I began running I could barely make it .02 miles without feeling nauseous. Honestly, some days running is still a struggle, but it can be really rewarding to. If you are struggling with the MENTAL aspect of it, download a great playlist of music to get you in the mood. Pull out pictures that inspire you-- maybe its a bathing suit you want to wear, or toned arms you want to have. Put it somewhere you can see it and remind yourself what you are working for! Buy some cute workout clothes-- trust me, I am more apt to go workout when I have some stylish gym gear on. Next, set some goals and stick to them! If you are new to running I love Hal Higdon's programs. Pick one that suits you and follow along. You will be running distance in no time! If its the PHYSICAL aspect that is bothering you--shin splints or IT Band pain that you need to re-evaluate some things. First you need to pick the correct shoe for you, and start to practice good form running. I wrote a post all about it
here!
And a post about how to pick the correct shoe for you
here!
13. Where have you lived during your travels?
We have been everywhere! The easiest way to see where we have been and read about certain parts of the country you are interested in, is to visit our travels & adventures page!
14. You seem to have such a fun life-- is that real or made up?
This question is so funny to me, and I have actually gotten some e-mails asking this, and other times I have heard through the blogging grapevine that people think I live some kind of charmed life. Crazy, right? After I got done dying of laughter I thought maybe I should seriously answer this question. Is my life charmed? Heavens no, --but I am blessed. I do have a fantastic husband-- he works hard, is super funny, very handsome and SO talented but do we always have a perfect relationship? Nope. Not even close. We argue and get on each others nerves all the time. The difference though? We made a commitment to each other, and at the end of the day we love each other so much, and we look to the Lord to guide and strengthen our marriage. After two years of being husband & wife we are both learning how to love each other better, and when to choose our battles. Jonathan is a very fly by the seat of his pants kind of guy where I am more "gotta have a plan!" girl--- we have learned how to live with each other with these big personality differences. Yes, we have gotten to live in lots of cool places and experience a lot of things in a short period of time but we have also had to be away from our families for almost two whole years. And we have had the not so fun task of learning how to live with my lupus. For me, some days just suck and because of that, Jonathan's days suck too since he can't really help me. He has had to learn how to take on a lot more of the work load than he should have to and we are still figuring it out every single day. Jonathan decided to do the travel thing so we could pay off our debts and save money for a home. We are getting closer and closer to that goal and are excited to finally put down some roots and pop out some little Slaters!
15. What are some of your favorite things?
Hmm, I love so many things. I love photography, obviously. I am not where I want to be with my work, but after talking with several other photographers I am not sure I will ever be--- but that is what will keep me growing and striving for more! I LOVE fall, it is my favorite time of the year. I hate being cold, so I think it has something to do with being able to bundle up and still look fashionable. I love my sweet little puppy Bella Louise-- not sure what I would do without her! I love to sing on the worship team at church. I LOVE Alabama football [roll tide]. I love the traditions of the south where I grew up. I love summer on the lakeshore in Michigan. I love wine, cheese, pasta, sushi and food of all kinds. If I could choose my vice it would be gluttony, for sure. That or huffing. I have always had a thing for the smell of gasoline and sharpie markers. Weird, I know (don't worry mom, I am NOT a huffer!) I love watching my husband laugh. I love Christmas with tons of family members, wrapping paper everywhere, the dog running through the house and everyone laughing, smiling and eating delicious food. I love good books. Classics like the Great Gatsby and inspirational ones like Cold Tangerines. I live for my morning cup of coffee. I love JCrew and Pottery Barn though I can rarely afford to shop at either of those stores. I love peonies and hydrangeas, white subway tile and reclaimed wood. I love listening to Justin Bieber in the car really loud, and sometimes rap music to remind me of my Atlanta days. I love dipping my hands in bags of birdseed. I love traveling and road trips. I love not knowing what is coming next. I love that I have a faith that allows me to live without fear or abandon, knowing I am saved by grace and taken care of. I love not worrying about the future because my Lord holds it in His hands. I love this blog world, and if you are reading this then I kind of love you too :)