Dear Baby Slater
, During your ultrasound this week we learned that you are just under three pounds and we got to see you drinking the fluid that you are bobbing around in.
That's pretty gross.
Dear Vacation
, I can't wait to finally meet you next weekend, and next week. Hellllloooo up north/lake time! Now if we could just get some HOT days it would be perfect!
Dear Husband,
Even though it sucks that you are switching jobs its kind of nice that you have a few days off and we can really knock out some of the painting and trim work in the house!
Dear Bella,
We received our stroller and carseat this week and after assembling you got to ride around in it in the house... don't get any ideas though, it doesn't belong to you!
Dear Friends,
I hope everyone has a fun weekend, and if you are living somewhere with warm weather please send some to Michigan!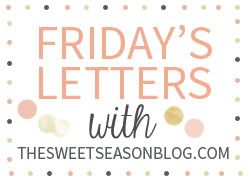 Loading InLinkz ...